Episode 4 "Bobby Driscoll": with Dave Bossert,
Director/producer Disney Animation Studios.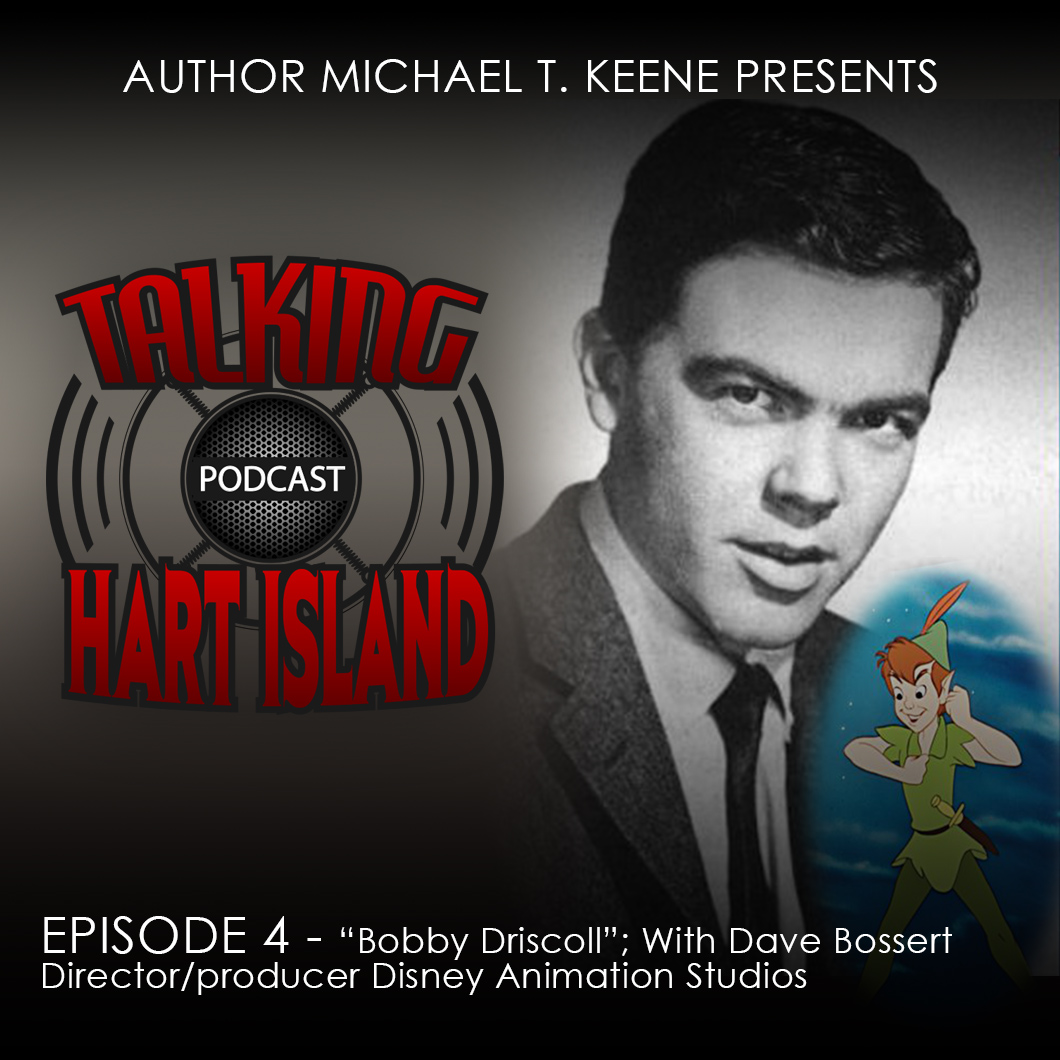 The clean cut child star with an impish, upturned nose, and beguiling expression was handpicked for an acting career by Walt Disney, himself—Of all the roles he played, Peter Pan seemed most like his alter-ego. He grew up—and worked—in Hollywood, but it might have been his Never-Never land. His is a story in a make-believe world; a world he could never leave behind. He would even go on to win the first Academy Award for a child.
But it would be his downfall….
In 1968, Bobby Driscoll's dead body was found by two boys exploring the ruins of an abandoned tenement in New York's Greenwich Village. The cause of his death was later determined to have been brought on by his addiction to heroin. He was just 31 years of age. Because, there was no one to claim his body, he was buried in a mass grave on Hart Island
For more about the Bobby Driscoll story visit Jessica Haynes blog,
Remembering Bobby.
"Guest Blog"
Stardust – The Story of Bobby Driscoll Part 1
By Jessica B. Haynes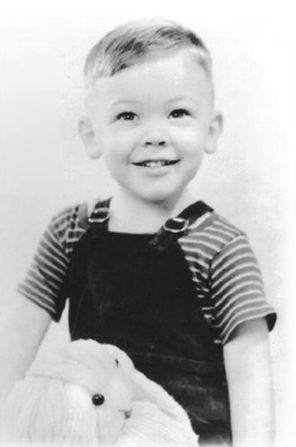 It was toward the end of a blustery Iowa winter when Isabelle Driscoll – a little older than most first-time mothers of the era – was checked into St. Luke's Hospital in her native city of Cedar Rapids. At 10:40am on Wednesday, March 3, 1937, she gave birth to her baby son by Cesaerean. He was to be named the most common boy's name for the year of 1937 – Robert. His middle name, Cletus, was after her new husband.
Bobby, as he was called, was born into a big extended family, the Irish-Catholic Driscolls who had settled in the area in the previous century. Cletus Driscoll was an insulation salesman who had, at age thirty-five, found a bride in schoolteacher Isabelle Kratz. The two married in 1936 and welcomed Bobby a year later. They likely thought the most exciting thing that could become of little Bobby was if he grew up to attend law school as Isabelle's father had. After all, it was quickly apparent that he was very smart. It surely never dawned on them that what would actually become of their only child would take its place in Hollywood legend, for its happy moments as well as its sorrow.
After just a few months, the little family picked up and moved over a hundred miles to Des Moines, IA. It is unclear exactly why this move took place, but the next move in 1943, when Clet was advised by doctors treating his acute sinusitis to take in the warm healing properties of the salty Pacific air, resulted in the Driscolls relocating to Altadena, California.
It was in Altadena that little Bobby's path was set out for him by a certain barber named Bill Kadel. Clet used to take his young son with him when he got his hair cut, and it was during one of these visits that the barber took note of Bobby's entertaining but precocious personality and offered a suggestion: how would Clet feel about his son getting into the movies? Kadel had a big connection for him – his son, Earl, who was an actor.
The Driscoll parents didn't take the invitation seriously at first, but with prodding by Earl, whom they met for dinner one Sunday, they agreed to take Bobby to an audition at MGM studios. It was there that he scored his first part in the movies as little more than an extra in the Margaret O'Brien vehicle, Lost Angel.
Just a few months after Bobby began first grade at McKinley Elementary School, he was cast in his first credited role as the youngest Sullivan brother in The Sullivans. His wit, even as a six-year-old, stands out and makes his performance as great as some of the more senior stars in the film.
It was several months after this that Bobby got an interview with Walt Disney that proved to be very promising. After all, Disney Studios was a relatively young powerhouse in the entertainment industry, and the Driscolls were no doubt incredibly flattered when Bobby was offered a contract.
His next movie to be released was not from Disney, but instead from Twentieth Century Fox, called Sunday Dinner with a Soldier. After its release, Bobby starred in an entire litany of movies back-to-back: The Big Bonanza, Song of the South, Identity Unknown, Miss Susie Slagle, From This Day Forward, So Goes My Love, and O.S.S. Somewhere during the middle of this nonstop performing, Bobby had to have his tonsils removed, indicating he was likely having recurring respiratory issues at the time. There is no doubt the daunting and rigorous schedule of public appearances, photo shoots and filming takes a physical toll on child actors. Bobby also faced his share of emotional trials as a young child: the death of his beloved Grandmother Grace from an automobile accident just as she was on her way to visit him from Arizona, which must have caused him great grief; as well as the loss of his little terrier Skipper, for whom he drew a picture to put in the newspaper in hopes that someone might help find him.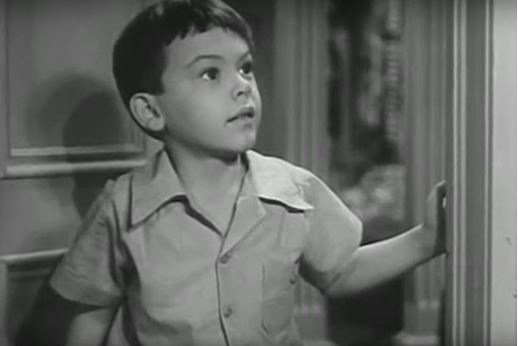 By all accounts of those who knew him and worked with him, Bobby was a lively, active child with a sweet and friendly disposition. He memorized lines quickly and carried out his film roles convincingly to be so young. It was often cited, however, that he wished to be allowed more time to play with other children and devote energy to things such as sports, the Boy Scout troop he was a part of, and playing with his many pets. Many people blame his parents for pushing him into show business, and insisting he thrive in the industry.
… And thrive he did, throughout the last year of World War II and during the post-war. Bobby Driscoll soon became a household name. His public appearances also increased, including such things as the "Queen for a Day" contest, and acting as host alongside Luana Patton for "All American Breakfast" and "Bobby and Luana's Platter Party," largely press for the kids' upcoming film So Dear to My Heart.
In November of 1949, Bobby began work on one of his most esteemed projects, The Window, for Hugh Hefner's RKO. The film was shot in the East Village of New York City, and despite the film's central plot element of a steamy summer heatwave, it was actually very cold in New York at the time, and Bobby and his father both came down with flu for several days prior to filming. After recovering, however, Bobby worked full steam ahead on the project, which covered the holiday season of 1949. He received double pay for working on Thanksgiving Day.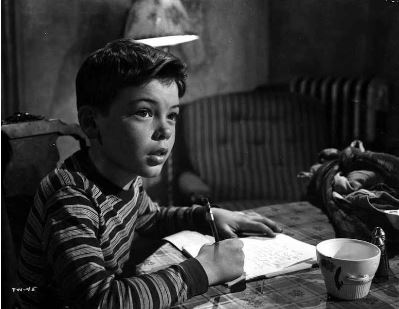 Bobby went on to win a special juvenile Academy Award in 1950 for his performances in both The Window and So Dear to My Heart. It was a glowing, happy time for the Driscoll family, and the feeling of good fortune only increased as Bobby released two more films in rapid succession: If You Knew Susie and Melody Time, a series of Disney shorts with special appearances by Bobby, Luana, and Roy Rogers. Interspersed with his film releases were more public appearances, radio shows, and interviews. Nineteen forty-five and 1950 were filled with non-stop action for the young star.
As time went on and Bobby grew inch by inch from a little boy into an adolescent, he continued to show the public a good face wherever he went. He did all the things asked of him with a smile on his face and a friendly word. But it was likely very tiresome. The action carried straight on through three more films — When I Grow Up, Treasure Island, and The Happy Time — straight into what would become Bobby's final role as a child, voicing the main character in Walt Disney's Peter Pan, the first edition of the story to be told on stage or in film using a male voice and animation model. Ratings were good, and there was no reason for anyone to believe there was any place else for Bobby to go but up.
But as Peter Pan's hijacked pirate ship ship sailed away into the night sky after depositing Wendy Darling and her brothers back home to the nursery window, so Bobby was sailing away from youth — and his security at Disney.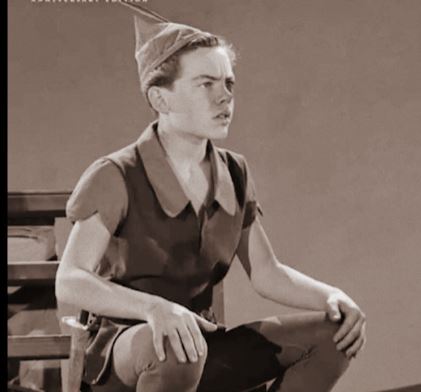 Acknowledgments and Sources
I must credit almost everything I know about Bobby Driscoll personally and professionally to the now-defunct Bobby Driscoll Tribute group on Yahoo. It was peopled by some of the most knowledgeable and oldest of Bobby's fans, including those who had spent years conducting research on him – particularly Brian Keith O'Hara and Jim Foster. I am very thankful to have had the chance to find and be a part of this group, soaking up archive posts, for the little while it still existed. I specifically want to mention the extensive timeline that a man called Dave Smith spent a lot of time compiling, supplying many of the little details such as that of the drawing of Skipper for the newspaper Bobby submitted. I deeply regret that these resources are not still available to the public. https://groups.yahoo.com/neo/groups/BobbyDriscoll/info.
I also must credit www.bobbydriscoll.net for its extensive archive of primary sources, including interviews conducted with Bobby while he was alive. www.Ancestry.com supplied much of my material regarding Bobby's family background.
Images are not my own, but acquired from the former Yahoo group mentioned above, ebay snapshots, and other common photos found in public domains on the web.
For more information and to read more of my musings about Bobby's life, visit my blog at http://rememberingbobby37.blogspot.com.