Episode 18 "Leonard Melfi": with Edward Berkeley,
Professor, The Julliard School.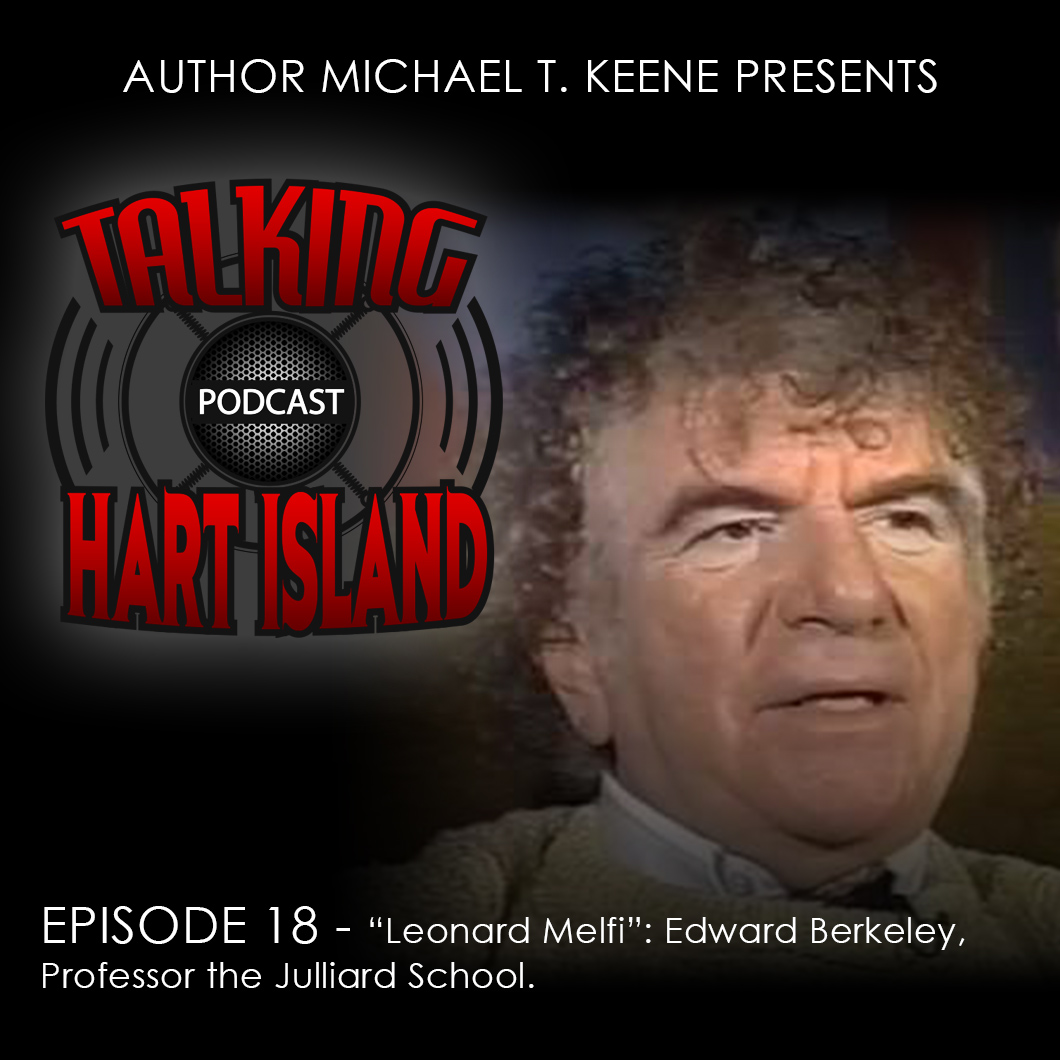 Leonard Melfi was revered by his peers as one of the most respected and creative playwrights of his generation. He is most associated with the offbeat La MaMa Experimental Theatre Club, on East 4th Street in New York's East Village, which produced twenty-two of his plays.
Struggling with alcoholism for many years, Melfi died of congestive heart failure in 2001. It was later reported that his body had been "misplaced" by hospital staff and ended up being buried on Hart Island!
Join us as Professor Berkeley recounts his collaborations with Melfi and his remarkable work.
"Guest Blog"
Leonard Melfi
by Lorraine Lucciola
lorrainelucciola@comcast.net
Leonard Melfi, one of the most prolific playwrights in New York's 1960s experimental theater scene, said, "I write about people meeting each other and reaching out to each other. I love that."
Most theater professionals of the day would agree that Melfi was largely responsible for relighting the fire of interest and creativity in New York's Off Broadway and off-off-Broadway resurgence.
In taped interviews, Leonard Melfi (1932–2001) is personable, centered, sure of his connection to the human condition. The characters he created were compelling, admittedly quirky, eccentric and nontraditional but just as deserving of words, situations and solutions as any character ever written—maybe even more.
Born and raised in Binghamton, New York, Melfi moved to New YorkCity in search of an acting career and studied with Uta Hagen, among others. Between lessons, he'd write thoughts and situations suitable for dramatic scene work and turned to playwriting more readily than acting. He recalled, "I found that it really turned me on watching other actors do the plays I wrote."
Melfi was revered by his peers as one of the most respected and creative playwrights of his generation. He was best known for his work with the offbeat La MaMa Experimental Theatre Club on East Fourth Street in New York's East Village, which produced twenty-two of his plays. Melfi claimed, "A playwright needs a place to write for," and he felt lucky that he and La MaMa were artistically compatible.
He wrote more than seventy plays, and twenty-two of them were written for and performed at the La MaMa Theatre.
His artistic collaborations involved other well-known pioneers in the new, experimental theatre movement, including Tom O'Horgan, who produced Melfi's best known play, Birdbath, in 1965, and Kevin O'Connor, who directed Melfi's Niagara Falls in 1967.
Other successful vehicles included Having Fun in the Bathroom, The Raven Rock, Horse Opera, Porno Stars at Home, Fantasies at the Frick, Ferryboat, Encounters, Later Encounters, Lunchtime, Rusty & Rico, The Shirt, Club Hellfire and Halloween.
The major characters in his plays were mostly social outcasts with mysterious secrets that were revealed in moments of great anxiety and emotion. He was also a contributing writer to the 1969 Off-Broadway musical Oh, Calcutta! and authored Hollywood screenplays and appeared in the film Rent Control in 1984.
"I was doomed"
The Melfi family of Binghamton, New York, was lively and seemed to thrive on drama and booze. In an interview on the radio station WBAI in 1966, Melfi said of his family, "We always talked, and we always cooked together, and while cooking we drank. My father's father was a bootlegger and my mother's father made wine in the cellar…I was sort of doomed." He joked that he had developed his taste for alcohol by "working in the family business."
An Offbeat Final Act
By October 2001, Melfi had been struggling with alcoholism for some time and was renting a single room at the Narragansett Hotel at Broadway and Ninety-Third Street in New York. His niece had tried several times to see him, but his door was locked, and he didn't answer. Well-meaning friends also tried to contact him. At times, he told them through the closed door that he was "okay" and not to worry. His niece became concerned enough to call paramedics to the hotel. They entered Melfi's room and found him in cardiac distress on October 28, 2001.
He was taken by ambulance to Mount Sinai Hospital, the closest medical facility. He died of congestive heart failure four hours later in the emergency room. It was eventually reported that his body was "misplaced" by hospital staff and ended up being buried on Hart Island in March 2002.
Melfi's brother, John, finally tracked his brother's remains, had them exhumed from Hart Island, sent to the Frank E. Campbell Funeral Chapel on Eighty-First Street and Madison Avenue in New York for official identification and finally transferred them to the DeMarco Funeral Home in Binghamton. After a complete funeral mass, Leonard Melfi was buried in the family plot in April 2002.
On May 2, 2002, a public memorial for Melfi was conducted at the La MaMa Theatre Annex in New York. Playwright Edward Albee sent the following note, which was read aloud to those present at the memorial:
"Years ago, there were many serious and daring individuals in Greenwich Village under 30 as well as young playwrights, myself included. It was a wild and vital time, and no one was more vital than Leonard."
Sources
1.Wikipedia, s.v. "Leonard Melfi," last modified August 17, 2018, https://en.wikipedia.org/wiki/Leonard_Melfi
2.Kenneth Jones, "Playwright Leonard Melfi to Be Remembered at May 5 NYC Memorial," Playbill (news), May 5, 2002, www.playbill.com.
3."Playwright Leonard Melfi," Mdclayton.
4.Ibid. 
Talking Hart Island