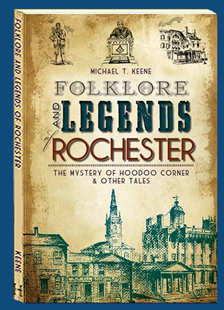 $19.95
STEEPED IN LEGENDS AND HAUNTED BY A CURSE
Born from the chill waters of Lake Ontario and the Genesee River, Rochester, New York has been the cradle of the modern spiritualist and anti-Masonic movements and many religious sects and utopian communes. This unusual history has given rise to many strange legends and shrouded the city in mystery.
Was the corner of Main and Elm Streets, the former McCurdy's Department store cursed? Who was Captain William Morgan, and why did he suddenly disappear? What stories lie behind Rochester's first murder and execution? And who was the Hoodoo Doctor?
From century old tales of Native American folklore, the history of the Fox Sisters, the secrets of the Freemasons, and the murder of William Lyman, Folklore & Legends of Rochester, The Mystery of Hoodoo Corner, takes us on a journey into the past while unraveling the solution to an ancient mystery.